In animal organisms, the digestive system is the organ system that transforms food into simple substances in a process called digestion. After digestion, the body can absorb these substances and use them to obtain energy and maintain the body.
In humans, it consists of the following organs:
The mouth: contains the teeth, which bite and chew food. The tongue mixes food with saliva and pushes it down the throat.
The esophagus: serves as a passageway for food between the throat and the stomach. Once it has reached the esophagus, the food automatically passes into the stomach.
The stomach: grinds and mixes food with acidic and digestive substances called enzymes.
The pancreas: produces the enzymes that facilitate the transformation of food.
The liver: produces and releases digestive substances in the small intestine. It also stores sugars and releases them into the blood according to the body's needs.
The small intestine: it is a long and thin tube, more than 5 m in length. In it most of the process of digestion and absorption of food takes place. The released enzymes degrade the food. The small intestine empties into the large intestine.
The large intestine: it is a wide tube 1.5 m in length, located in the abdomen. Through the large intestine it absorbs water and useful chemicals. The excess material is driven and excreted through the anus.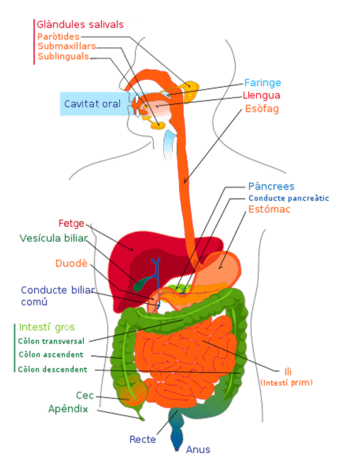 Online appointment
The way to make the process of requesting an appointment time more agile and faster is through our website, where you can request your appointment with your specialist doctor from home, with the convenience that this service entails. You will be able to see the available hours of the doctors to be able to choose the one that best suits your needs and schedules. However, you have the possibility to change, modify or cancel the appointment.
Request your appointment
The mutuals with whom we work